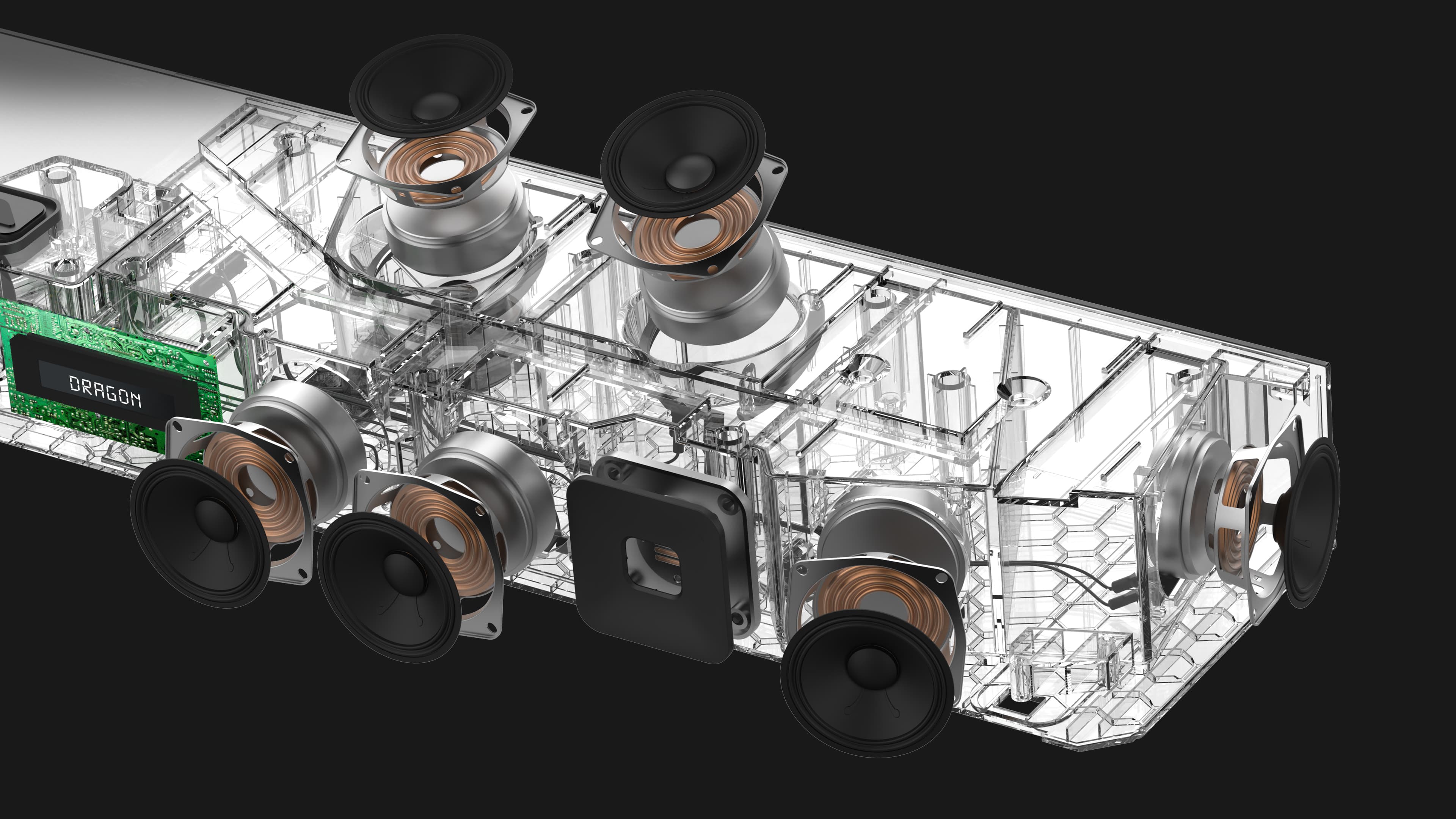 Up Close and Personal
Specifications & FAQ
1 x 58" Main Unit
10 x 3" Drivers
4 x 3" Dual-Angled Upfiring Speakers
3 x 1.5" Air Motion Tweeters

Quad Wireless Subwoofers
2 x 8" Subwoofer drivers (Each)
2 x Omni-Motion Reference Surround Speakers
2 x 1.5" Air Motion Tweeters (Side and Rear Surround)
2 x 3.5" Drivers (Side and Rear Surround)
1 x 3" Rotatable Up-firing driver
Loudness
125dB Sound Pressure Level (SPL)
Overall Frequency Response
Input
3 x HDMI 2.1 In, Optical In, Aux In
Output
HDMI 2.1 (eARC) Out, Optical Out, Aux Out
Bluetooth
Version 5.0 with aptX™ HD
USB
Type-A (Firmware Upgrade Only)
Power Input
100 - 240V, 50/60Hz (Main Unit)
110 - 240V, 50/60Hz (Subwoofers)
110 - 240V, 50/60Hz (Surround Speakers)

HDMI Format
HDMI 2.1 supports up to 4K120Hz/8K60Hz
Number of Inputs & Outputs
3 Inputs / 1 Output (eARC)
Dolby Vision Pass-through
Other Features Pass-through
CODEC Support
Dolby TrueHD, Dolby Digital Plus,
Dolby Digital DTS:X, DTS-HD Master Audio, DTS Digital Surround LPCM 7.1,
LPCM 5.1, PCM 2.0
Audio Enhancement
Channel Volume Control
Quad Subwoofer Setup
Height Effects Setup
Audio Calibration
Main Unit
2-Line Dot Matrix Display
Remote Control
45-Key LED Backlit
Bluetooth and IR compatible
On Screen Display (OSD)
General Functions + Calibrations
Smart App
Wireless Remote Control App Supports iOS and Android
Size and Weight (L x W x H)
Main Unit
58.1 x 7.7 x 4.4 inch / 32.1 lbs
Omni-Motion Surround Speakers
9.0 x 8.3 x 10.7 inch / 8.8 lbs (Each)
Subwoofers
12.5 x 11.2 x 20.9 inch / 34.4 lbs (Each)
Box Packaging
62.6 x 15.1 x 20.1 inch / 146 lbs
Frequently Asked Questions
Orders & Shipping
|
Audio Setup & Performance
|
Others
How can I make the pre-order?
Please make your pre-order of DRAGON 11.4.6 from our official website: dragon.nakamichi-usa.com.
For everyone to have an equal opportunity to enjoy DRAGON, the maximum purchase quantity is limited to 1 per order. Do drop us an email at nakshopify@nakamichi-usa.com should you face any issues in the purchase process.
Note: Inventory will only be reserved upon successful payment transaction.
What payment modes are accepted?
All major credit and debit cards are accepted: Visa, Mastercard, American Express, Discover, and Diners Club
Are financing/installments options available?
No, there are no financing or installments options available.
What is the Return and Refund Policy for DRAGON and its related accessories?
Our Return and Refund Policy is valid for a period of 30 calendar days from the date of delivery. You will get a free shipping label sent to your email. Free returns are available for USA only.

*If 2 or more DRAGON units have been purchased, the buyer is responsible for covering the return shipping cost for any unit beyond the first one.

If you would like to return the product for a refund during this period, please email us at dragonvip@nakamichi-usa.com with your Order Number.
Returns and Refunds are subject to Nakamichi's approval. Possible reasons for refused returns include:
Item is sent back without contacting us first

Packaging used for item is not original. Returned products must be returned, to the extent possible, in its original packaging.

Item is different from the one originally shipped (includes disparities in serial numbers).

There are missing hardware parts or accessories from the original item.

Item is not like-new condition showing any form of damage from misuse or mishandling.

Item is damaged due to improper packaging.
What is the warranty coverage for DRAGON?
All systems purchased from our official website (www.dragon.nakamichi-usa.com) or authorized retailers come with 1 year parts and labor USA warranty.
Which carrier will you be using to ship DRAGON?
The system will be shipped by UPS and a signature will be required for acknowledgement of receipt.
For shipping-related enquiries, please contact UPS at 1.800.742.5877 with your tracking number.
When will I receive my pre-order?
Please look out for the estimated shipping date on the order confirmation email received after a successful order. Once the system is shipped, you will receive another email with a tracking number. Track your pre-order shipping status by clicking on the tracking number.
What US states do you ship to/charge tax for?
We ship to 49 states in US: Alabama, Arizona, Arkansas, California, Colorado, Connecticut, Delaware, Florida, Georgia, Idaho, Illinois, Indiana, Iowa, Kansas, Kentucky, Louisiana, Maine, Maryland, Massachusetts, Michigan, Minnesota, Mississippi, Missouri, Montana, Nebraska, Nevada, New Hampshire, New Jersey, New Mexico, New York, North Carolina, North Dakota, Ohio, Oklahoma, Oregon, Pennsylvania, Rhode Island, South Carolina, South Dakota, Tennessee, Texas, Utah, Vermont, Virginia, Washington, Washington DC, West Virginia, Wisconsin, Wyoming.
Sales taxes are charged (based on state requirements) for all states except for Delaware, Montana, New Hampshire and Oregon.
Due to shipping limitations, we are unable to accept orders to the following destinations: Alaska, American Samoa, Guam, Hawaii, Northern Mariana Islands, Puerto Rico, Marshall islands, Micronesia, Palau, US Virgin Islands, APO/FPO/DPO and P.O Box addresses.
Do you ship internationally?
No. Upon setting up DRAGON for eBay's Global Shipping Program (GSP), we discovered that the 140-pound system exceeded their weight and dollar value thresholds ($2500 maximum). Hence, it was rejected by the platform.
We will try our best to seek a reputable retailer that can handle international shipments for DRAGON, but we do not have any suitable partners currently.
Stay in the loop
Get exclusive content and updates about DRAGON.